Internet marketing
Search engine optimization, online advertising and internet promotion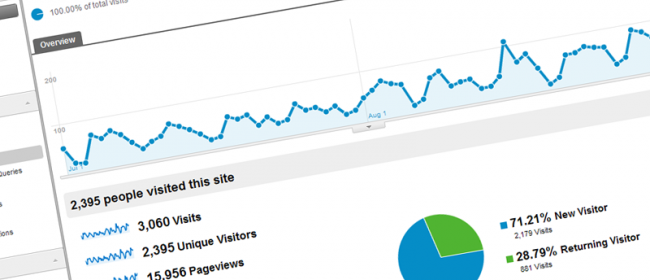 Having a web-site is important but what good does it make you if nobody knows it is out there? There is too much information and billions of different web-sites on the Internet.
We help our clients to improve organic visibility of their web-site and thus to get more visitors / sales by optimising their on-site content, advising on best SEO/SEA strategies, realising practical online advertising campaigns and employing social media.
Each project is different and requires unique mix of approaches to get the best results. Together we will find what really works for your business or organisation and help you implement the necessary strategies and tasks. Interested? Drop us a line.
SEO
According to recent statistics: "62% of search users click a link on the first page of search results. 23% of searches progress to the second page." This means that if your site is not on the first two search result pages for the search keywords relevant for your business it will not be found by the users.
Our SEO-approach includes careful keyword research with a well planned combination of technical optimisation and practical copy-writing improvements and tips to ensure that your website reaches its full potential. Let's look what we can do for you!
SMM (Social Media Marketing)
We think that socialising is cool! Social media plays a big role in "word of mouth" advertising, business / client interaction and ensures timely and honest feedback. But it can also be very frustrating and time-consuming.
We will guide your through the maze of different options and possibilities and help you chose the right social media tools, set them up according to the best practices, integrate them with your web-site(s) and work out ways to minimise time spent on updating them all. Let's go social together!
Online advertising
Online advertising works and works really well. While traditional advertising media continue to drop in popularity, online advertising budgets are rising because of the lower costs, higher efficiency, much better targeting and relevancy and extensive reporting possibilities and just because it's becoming a more productive source to bring in consumer. Online advertising also allows for the customisation of advertisements, including content and posted websites. For example, AdWords, Yahoo! Search Marketing and Google AdSense enable ads to be shown on relevant web pages or alongside search result.
In spite of all these advantages online advertising continues to be relatively complex affair. But fear not, with our help and advise you'll get the results!
Reporting & Analytics
We are no fans of marketing mambo-jambo and prefer practical measurable results instead. By working with us you will also get extensive reports, analytics and insights into your audience, budget spending and the results you're getting from proposed changes. We will also help you to interpret these results and continue to improve our recommendations, ensuring that you get the best possible advice and value for money!
Ready for online insights? Let us know!